Monday, October 29, 2007
Just seen
Cardcaptorredeemer.com has a new look.
I like it a lot
Posted by

Animefaniac
at 10:28 PM
0 comments


Links to this post
Friday, October 19, 2007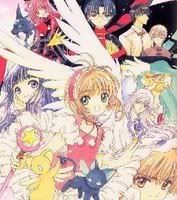 Title: Cardcaptor Sakura
Mangaka: CLAMP
Genre: Shoujo, Fantasy, Romance, Comedy
Status: Complete
Scanlator: Be With You Scans, Maria
Licensed: Yes
Summary: One day, Sakura Kinomoto accidentally opened a book containing dozens of magical cards called Clow Cards, and they scattered around her hometown of Tomoeda. Sakura was chosen to be the master of these cards and has been enlisted by the sun-based guardian Kerberos to use her magic and reclaim these cards before they make any more trouble in town. She is encouraged by her best friend Tomoyo Daidouji, and she meets a rival cardcaptor, Syaoran Li, who is a direct descendant of the creator of the Clow Cards.(
Click here to see download
)
From
Posted by

Animefaniac
at 11:39 AM
0 comments


Links to this post
Story Summary
The manga is incredibly cute and interesting as well. There are at least a couple of story lines running simultaneously, and they are all integrated through Sakura or the cards. Sakura is able to actually get all the cards within a few volumes, but then other mystifying things begin to occur. First she finds a rival in the card collecting department when she meets a relative of Clow Lead named Li Syuoran (7/13, O negative blood). At first he becomes a rival for the cards and for Sakura's love, Yukito (Yukito wears glasses and is a very sensitive person, and eats like a horse without gaining any weight). Later, Li finds himself thinking less and less of Yukito and as he is more and more attracted to Sakura. (Tomoyo happily points this out to him any number of times! :-) )
As Sakura gets better, and Li becomes more of a helper, she begins having dreams of a new mysterious person. Also, she finds out that someone related to the moon is keeping an eye on her and is someone close to her. The cards, once she has them all, and a new threat enters town, begin to change. Wether this is a good change or bad, it is yet to be seen. But as each card gets used to offset the mysteriuous threats, their backing changes.
Add to all this mess the fact that innocent Yukito sometimes seems to know things he shouldn't, that her brother Toya keeps being spoken of by others as someone of power, the mysterious new foreign student and others and you get a big mix of things going towards the vague mentioned disastrous future. Where will it all lead?
As an extra treat, each manga comes with a colorful bookmark made to look on the back like one of the Clow Cards yet holding a picture of one of the varied cast of characters. A definitely fun read with some very nice inventive touches. If you've seen the anime, you still need to read the manga for the TV series deviates heavily from some of the card capturing incidents. Personally, I like the way they do a numbers of these a lot better in the manga. A definite fun read with lost of first love sentiments and realizations. Too cute!
http://home.swbell.net/gioliver/mcardcaptor.html#Summary
This is where I got it from
Posted by

Animefaniac
at 9:17 AM
0 comments


Links to this post
Title: Card Captor Sakura
Author/Artist: Clamp
Publisher: Kodansha Comics
Style: Shojo -- Adventure/Fantasy
# of Books: 10+
Rating: PG
Summary written by: Gloria Oliver
Posted by

Animefaniac
at 9:08 AM
0 comments


Links to this post
Thursday, October 18, 2007
Hi
This is my first post.
Posted by

Animefaniac
at 10:05 PM
0 comments


Links to this post